NSMQ 2021: Bono East, Bono & Ahafo Regional Qualifiers & Contest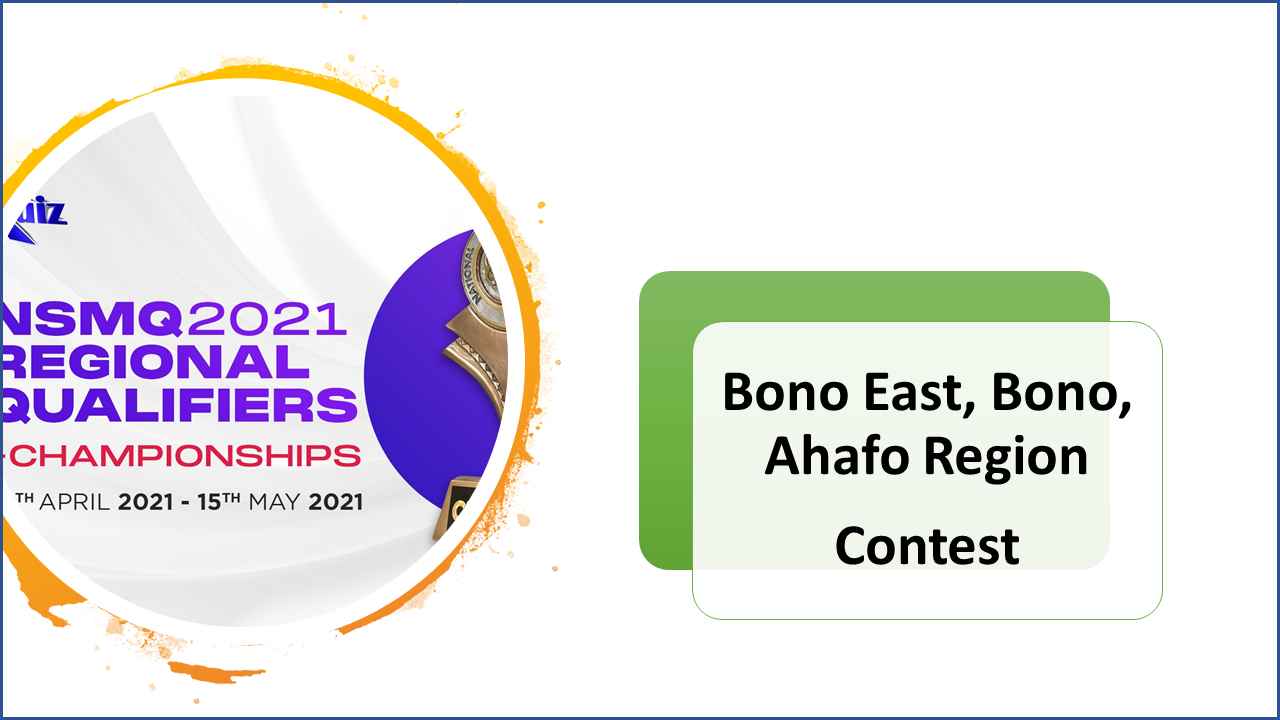 NSMQ 2021 Fixtures - Regional qualifiers
A total of 54 Senior High Schools in the Bono East, Bono and Ahafo regions will battle for a slot in the National NSMQ 2021 at the regional championship level.
The regional contests across the country are expected to start on 12th April 2021 and end on 27th May 2021.
NSMQ 2021 promises to be yet another exciting season with about 600 senior high schools participating at the regional levels, win winners from each contest progressing to the National Championship somewhere later in the year.
Note: If you do not see some schools on the list, they may be part of the Seeded Schools for #NSMQ2021
NSMQ 2021: Bono East, Bono & Ahafo Regional Contest
These contests will last for three days from 17th to 19th May 2021.
NSMQ 2021 Regional Contest

Contest 1

Contest 2

Our Lady of Mt. Carmel Girls' SHS
Atebubu SHS
Prang SHS
Yeji SHS
Osei Bonsu SHS

Kintampos SHS
Guakro Effah SHS
Amanten SHS
New Konkrompe SHS
Gyarko Community Day

Contest 3

Contest 4

Techiman SHS
Kwabre SHS
Kwame Danso SHTS
Kajaji SHS

Akum fi Ameyaw SHTS
St. Francis Sem SHS
Nkoranza SHS
Yeboah Asuamah SHS

Contest 5

Contest 6

Drobo SHS
Wenchi Methodist SHS
Menji SHS
Salvation Army SHS

Notre Dame Girls' SHS
Twene Amanfo SHTS
Methodist SHTS, Berekum
Our Lady of Providence Girls'

Contest 7

Contest 8

Odomaseman SHS
Nafana Presby SHS
Nkoranman SHS
Nsawkaw State SHS

Sacred Heart SHS
Sumaman SHS
SDA SHS
St. James Sem. SHS

Contest 9

Contest 10

Sunyani SHS
Goka SHS
Istiqaama SHS
Chiraa SHS

Berekum SHS
Jinijini SHS
Dormaa SHS
Badu SHTS

Contest 11

Contest 12

PRESEC, Bechem
Bomaa SHS
Hwidiem SHS
Gymafi Kumanini SHS

Mim SHS
Samuel Otu Presby SHS
Ahafoman SHS
Serwaa Kesse SHS

Contest 13

Acherensua SHS
Kukuom Agric SHS
OLA Girls' SHS, Kenyasi
Derma SHS
Related reads:
NSMQ