There is no doubt that the kind of people you surround yourself with throughout life are the very catalysts that shape your future. The earlier you start networking yourself with the right people, the better you stand the chance not to live a mediocre life. Michele Jennae puts it this way; Networking is not about just connecting people. It's about connecting people with people, people with ideas, and people with opportunities.
A great influential stage on the ladder of education is the senior high school. The schools with great and successful alumni speak for themselves. Networking at the early stage could be challenging but joining a school with a solid alumni base guarantees your chances of belonging to a built-in network of professionals.
Upon meticulous research across the length and breadth of the country, AB Review compiled a list of 15 high schools with highly networked alumni and powerful networking potentials. These schools have the strongest central alumni network with year groups linked to each other, have yearly ordination of new members, can boast of an alumni office, hold frequent home-comings and support projects in their Alma mater. The list is in no particular order.
1. Mfantsipim School (Boys school)
Location: Central region of Ghana, Cape Coast.
Nickname: Kwaabotwe
The oldest senior high school in Ghana with stupendous educational facilities. They are known for raising some of the finest gentlemen in Ghana. Former Secretary-General of the United Nations, Kofi Annan; former prime minister of Ghana, Kofi Abrefa Busia, and the former Vice president of Ghana, Kwesi Amissah-Arthur are products of Mfantsipim.
2. Prempeh College (Boys school)
Location: Ashanti region of Ghana, Kumasi
Nicknamed: Amanfo)
It is the first all-boys senior high school in Ashanti. The school is known for its unique architectural design. By 1974 Prempeh College had sent more students to medical school in Ghana than any other school. Dr. Akosah, the former president of Ghana Medical Association; Dr. Kwabena Dufuor, former governor of Bank of Ghana; J. A. Kufuor, Former President of Ghana, is among its notable alumni.
3. Wesley Girls High School
Location: CapeCoast, Central Region.
It is known for its high level of discipline and academic excellence. Mrs. Justice Georgina Theodora Woode, First Female Chief Justice of the Republic of Ghana; Prof. Jane Naana Opoku-Agyemang First Female Vice-Chancellor, Minister of Education (2013–present); Prof. Mrs. Afua Hesse First Female Pediatric Surgeon is among the tall list of great Alumni of Wesley Girls High School.
4. Achimota School (Mixed gender)
Location: Accra, Greater Accra Region
Nicknamed: Mowtown
It's an epitome of a comprehensive senior high education. The school has educated many African leaders, including Kwame Nkrumah, Edward Akufo-Addo, Jerry John Rawlings, and John Evans Atta Mills all of whom are former Heads of State of Ghana.
5. Presbyterian Boys Senior High School (Boys school)
Location: Accra, Greater Accra Region
Nicknamed: Odadea
Presec is known for its track record in the National Math and Science Quiz; 5 times champions. Lt. Gen. F. W. K. Akuffo – former Head of State of Ghana, Dr. Victor Kofi Agawu - Professor of Music, Princeton University were all raised in Presec.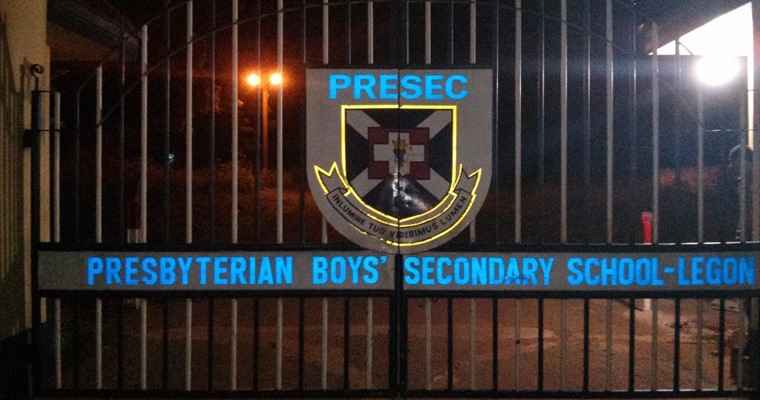 6. Opoku Ware School (Boys school)
Location: Kumasi, Ashanti Region
Nicknamed: OWASS
A proud tradition of this school is its unique student identification system. OWASS is an equal rivalry with Prempeh College. Famous alumni include Joe Mensah, Country General manager, IBM Chief in Ghana; Christian Nsiah, national athlete, Olympian; Ernest Owusu-Poku ex Inspector General of Police, Ghana.
7. St. Peter's Senior High School (Boys school)
Location: Nkwatia,​ Eastern Region
Nicknamed: Persco
The school is famous for its excellent academic performance and for consistently producing top WAEC examination results each year. Dr. Charles Kadey Djugbah made history as the first person to have won the highest number of awards in the 40-year history of the Kwame Nkrumah University of Science and Technology (KNUST) Medical School in Kumasi, Ashanti Region. The school has produced more medical doctors than any other school.
8. Holy Child School (Girls school)
Location: Central region of Ghana. Cape coast
Nicknamed: Holico
The School has always prided itself in providing a holistic education for females so that they may strive to achieve higher heights and become "Women of Substance". Ghanaian Software Developer and founder of Soronko Solutions, Regina Agyare and Joyce Bamford-Addo- immediate past speaker of parliament schooled in Holy child.
9. Adisadel College (Boys school)
Location: Cape Coast, Central Region.
Nicknamed: Adisco or Zebra boys
Strong, willful, and intelligent lads in a great campus environment. Judiciary-Chief Justice, George Kingsley Acquah; Ebenezer Begyina Sekyi-Hughes, former speaker of parliament and Sam E Jonah KBE, Executive Chairman of Jonah Capital, previously President of AngloGold Ashanti are santaclausians (Adisadel Old students).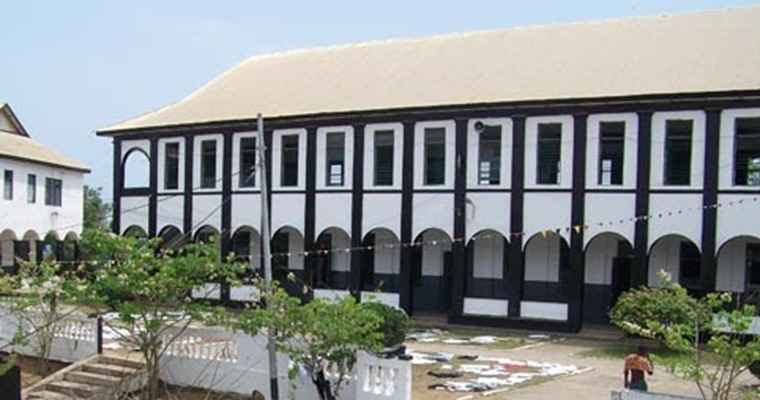 10. St. Augustine's College (Boys school)
Location: Central region of Ghana, Cape Coast
Nicknamed: Augusco
The school is known for its competitive business and science programs. Outstanding Products of the school include Dr. Paa Kwesi Nduom, former minister of Ghana and entrepreneur; Dr. Paul Acquah, former Governor of the Bank of Ghana; Michael Essien, international football star, etc.
11. Aburi Girls Senior High School
Location: Aburi, Eastern region of Ghana
Nicknamed: Abugis
Among the best female second circle institutions in the country. The school is enriching Ghana with quality professionals from various spheres, medicine, art, business, engineering, etc.
12. St. Rose's Senior High School (Girls School)
Location: Akwatia, Eastern region of Ghana
Nicknamed: Roses
The school is one of the few high schools with very strict Roman Catholic Sisters' supervision. They groom girls into responsible and well-mannered ladies. Famous alumni include Attorney General, Marietta Brew Oppong Appiah, Founder & Chief Executive Officer of Baobab Advisors, Ms. Abena Amoah, and Eleanor Adzaho Sarpong.
13. Accra Academy (Boys School)
Location: Accra, Greater Accra Region
Nicknamed: Accra Aca
The Accra Academy was the first private academy to be established in Ghana but currently running as a government school. The school can boast of educating 3 Speakers of Parliament: Rt. Hon. Daniel Francis Annan, Rt. Hon. Peter Ala Adjetey, Rt. Hon. Edward Doe Adjaho.
14. Ghana Senior High Technical School (Boys school)
Location: Western region of Ghana, Takoradi
Nicknamed: GSTS
The School is a science and technology-oriented high school nursing outstanding lads since its inception. The school boasts of big names like Ing. Prof. Kwesi Andam – Renowned Structural Engineer; Prof. Edmund Kwadwo Osae - Nuclear Physicist and former Deputy Director-General of the Ghana Atomic Energy Commission; Prof. Sitsofe E. Anku – President of the Ghana Mathematics Society.
15. St. Louis Senior High School (Girls School)
Location: Kumasi, Ashanti Region
Nicknamed: Louis
Another girl's school with Roman catholic missionary supervision. Excellence and discipline is their hallmark. Well-off Alumni are distributed all across Ghana and beyond.